D.E.B.T. The Relationship Edition
Is your relationship lacking financial compatibility? If it is, don't worry, you are not alone. Most couples argue about money, but not all are able to overcome these disputes. "D.E.B.T. The Relationship Edition" offers a way to not only resolve these issues, it teaches readers how to avoid them all together.
For singles, this book is a guide to choosing more compatible partners and building long-lasting relationships. Lorick's methods of finding financial habit indicators and his must ask questions for determining financial compatibility are essential dating tools.
For readers who are already married, Lorick offers a simple but effective blueprint to building a financially unified household. He focuses on individual accountability, communication skills, and effective compromise to help couples overcome stubborn disagreements about money. Lorick also provides some useful wealth building tools for couples who aren't experiencing many financial disputes.
"Did Everything But Think: D.E.B.T." only touched on relationship issues, but this edition is a complete guide to achieving lifestyle goals as a couple. After reading this book, all readers will possess the tools needed to find financially compatible partners, and build a fiscally harmonious household.
Click here to get your copy!!!!
---
GET OUT OF DEBT TODAY WITH D.E.B.T.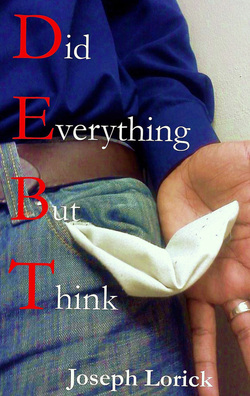 Did
Everything But Think
is a guideline to avoiding debt traps while on the path of financial freedom. Lorick approaches personal financial management from
a
social awareness point of view, using unheard stories to expose the culture of debt that dominates the U.S. economy.
The information in this book bridges
the gaps between wealth and poverty by enabling all
readers;
despite their
background, methods of achieving financial freedom. A wide variety of issues are covered in this book, such as, childhood influences, marriage, purchasing a home, debt elimination, credit repair and much more. Whether you are 13 or 70, D.E.B.T. will help you achieve financial freedom. This
book is just a small part of the D.E.B.T. movement. The purpose of this cause is simple; to strengthen our country by destroying debt dependency.

Average Rating
4.7 out of 5 Stars!!!!
Teresa Beasley APOOO BookClub
"Lorick starts with a brief history of generational handling of finances. The book covers several topics such as the different influences that may cause debt, how to buy your first car, when to move out of your parents' home and the difference between renting and having a mortgage. I enjoyed these particular chapters because they opened my eyes on how to avoid making mistakes when it comes to big decisions. The author's examples and scenarios provide readers with a clearer picture as he explains different levels of finances.

The author takes a different approach in sharing valuable information by using storytelling techniques along with personal experiences. I appreciated the sample budgeting worksheets that can be used as a tool to start readers on their journey to financial freedom. This was a helpful book that should be shared with high school and college students. I recommend this book to others."
J. Holder

"This book is simply spectacular. I wish I had knew the things
written in this book when I was 17 before I ever incurred any debt. I'd dare
say this book should be mandatory reading for ever highschool senior in
America. Lorick writes in a down to earth easy to understand natural voice and
exposes all sorts of things any one would want to know about how to set up a
solid financial life. Plus its a quick read which makes it even better. My hat
goes off to Lorick for this book, its excellent."
PAPERBACK EDITIONS ($14.99) AVAILABLE AT BARNES AND NOBLES & AMAZON.COM
AMAZON LINK: CLICK HERE
BARNES AND NOBLE LINK: CLICK HERE
MORE FINANCIAL LITERATURE